JUROFF 0.33L – GREEN OBUS TYPE BOTTLE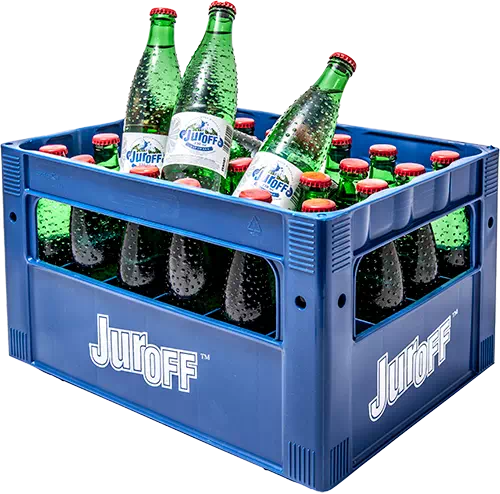 As part of our company's - Mineral Water Production - operations, we offer Juroff 0.33L natural medium-mineralised water – available in three variants:
Sparkling
Low carbonation sparkling
Still
One crate contains 24 bottles; thus, we are able to stack as many as 1,344 pieces in 56 crates on one pallet!
Juroff natural mineral water is poured into green, glass, returnable bottles with a capacity of 0.33L.
WATER IN GREEN BOTTLES
Water in green glass bottles looks elegant and modern, constituting an excellent decoration of the table on all sorts of occasions! Owing to its small size and comfortable obus-type shape, the bottle will not slip out of hand. A water bottle of such capacity can easily fit in your purse, hydrating your body away from home or on a journey.
After an order is placed, we immediately begin its processing and deliver it to the indicated address within 24-72 hours.