ABOUT THE COMPANY MINERAL WATER PRODUCTION SP. Z O.O. - KOZIEGŁOWY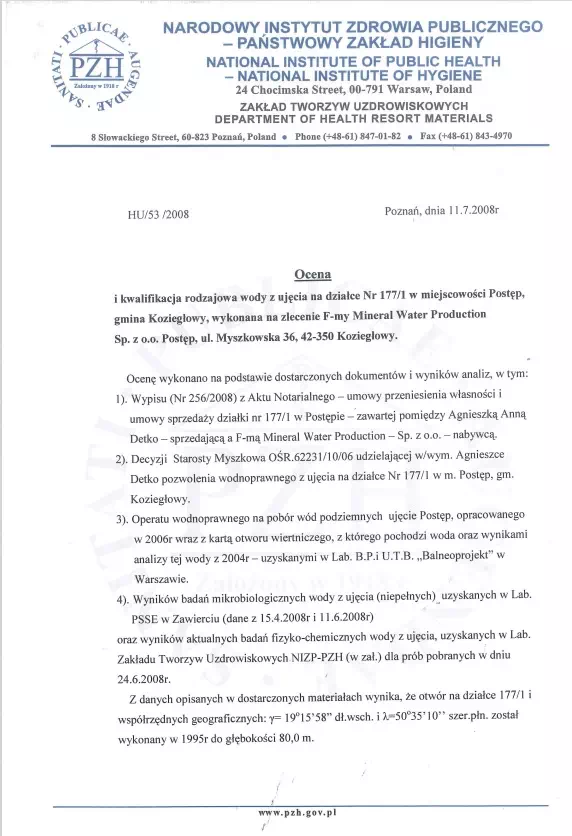 Our company was founded in 2008. The owner of the JUROFF brand is the Polish company Mineral Water Production Sp. z o.o. with its registered office in Koziegłowy, at ul. Myszkowska 36. Since the beginning of our operations under this brand, we have focused on the principles of sustainable development. These include primarily taking care of the environment, promoting a healthy lifestyle and sport, as well as initiating and supporting local ventures.
JUROFF is gaining recognition among active consumers and is a recognizable brand on the market. JUROFF mineral water is included in the list of European natural mineral waters.
Since 25-05-2018 the company Mineral Water Production Sp. z o.o. (MWP) has implemented a personal data protection policy.
WHY CHOOSE JUROFF WATER?
Fast delivery of orders – we know perfectly well that water is the basic source of hydration for the body. We are able to deliver the ordered water within 24 - 72 hours throughout the country
Water from the best source – our water is extracted from a Jurassic spring in Postęp, which is constantly controlled – both by us and by external laboratories
A wide range of products – we do not limit ourselves to offering water in one type of bottles and capacity. Our products include sparkling water, low carbonation sparkling water and still water in glass and plastic bottles
Low sodium content – our water is characterised by a low sodium content and an optimal ratio of calcium to magnesium. Thanks to this, it will serve well not only among healthy people, but also among those who suffer from heart disease, diabetes or hypertension.
You are welcome to visit us!
MINERAL WATER PRODUCTION IS A MEMBER OF THE NATIONAL CHAMBER OF COMMERCE OF THE BOTTLING INDUSTRY
CATIONS
CALCIUM - Ca2+ 71.14 [mg/dm3]

MAGNESIUM - Mg2+ 33.42 [mg/dm3]

SODIUM - Na+ 10.83 [mg/dm3]

POTASSIUM - K+ 2.83 [mg/dm3]
ANIONS
Bicarbonate - HCO3- 331.90 [mg/dm3]
Chloride - Cl- 10.30 [mg/dm3]
Fluoride - F- 0.36 [mg/dm3]
Sulphate - SO42- 52.05 [mg/dm3]
Mineralization 518.94 [mg/dm3]